Transform customer experience with unified order management
Reach new levels of customer centricity with Salesforce
An Order Management System (OMS) is the backbone of the ordering and fulfillment process. A unified OMS is crucial for delivering exceptional Customer Experience (CX) – it is the deciding factor between customers' loyalty or their willingness to switch to a competitor. A unified OMS can strengthen revenue streams, and reduce expenses, leading to improved business performance.
According to Forrester, 90% of customers believe their experience during the order journey is as significant as the product or service itself. However, a traditional OMS faces significant challenges, such as relying on manual processes, generic order journeys, duplicate leads, and inflexible systems, which negatively impact CX.
Service providers must use a unified order management system to overcome these obstacles. Salesforce OMS, a single platform that facilitates integration with various systems and data sources, delivers a comprehensive view of the customer and their orders across all channels. Although the Salesforce OMS platform is extremely powerful, service providers must take the right implementation approach to achieve maximum benefits.
Salesforce OMS for CX transformation: A strategic implementation approach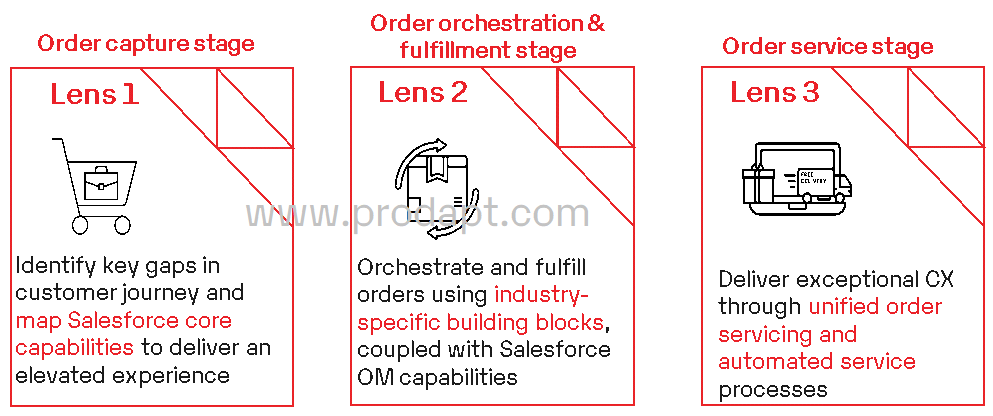 To deliver a consistent CX, service providers must employ a holistic and customer-centric implementation approach that encompasses the entire order journey, viewed through three different lenses:
Lens 1: Examine primary shortcomings during order capturing and address issues
Lens 2: Investigate major inefficiencies in the order orchestration stage and resolve issues
Lens 3: Analyze, identify, and resolve gaps in customer service stage and deliver exceptional CX through automation
The recommended implementation approach effectively addresses challenges and reduces OMS implementation time by up to 40%, accelerating order journey towards a modernized system and enhancing CX.
Salesforce OMS offers a unified platform that can integrate with various systems and data sources, providing a comprehensive view of the customer and their orders across all channels.