March 30-03-2017 • New York, USA
Prodapt today announced that it is a finalist in the TM Forum Excellence Awards 2017 in the Digital Service Innovator of The Year category. The Excellence Awards program honors global service and solution providers within TM Forum's member community that are making significant contributions to advance critical best practices and standards for the benefit of entire industries and digital ecosystems.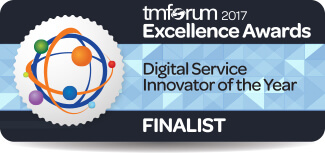 TM Forum will announce the winners of the 2017 TM Forum Excellence Awards during a special ceremony at TM Forum Live! on Monday, May 15th. Winners will also receive recognition during the opening keynote session at TM Forum Live! on Tuesday, May 16th.
Prodapt is a technology and operations services innovator catering to the global CSPs and DSPs. For over 17 years, Prodapt developed niche technology expertise in the telecom domain by working with some of the leading global CSPs. Prodapt has launched its IoT services also and partners with leading system integrators and hardware providers. Prodapt's Connected Officer program has been shortlisted as one of the finalists under Digital Service Innovator of the Year Award category. This solution has been leveraged to automate and empower one of the largest police forces in North America.