Prodapt today announced the appointment of Harsha Kumar as President, reporting to the Chairman/CEO, Vedant Jhaver. As President, Harsha will drive all business functions including sales, account management, solutions, marketing and strategy. He will be based at Prodapt's office in New York.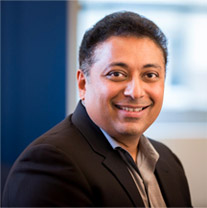 Harsha brings extensive experience in leading growth stage companies through major growth spurts. He spent the last 15 years as a key member of Virtusa's senior leadership team that established Virtusa as a premier IT consulting, transformation and outsourcing provider. As Executive Vice President, he led Virtusa's major growth practices focused on outsourcing transformation services across Applications, Infrastructure and BPO. Previously, he started and led Virtusa's businesses focused on the Telecom & Media, Information and Entertainment, Insurance, Healthcare, and Technology industries. Earlier, Harsha set up and managed all aspects of Virtusa's Indian operations.
Prior to Virtusa, Harsha co-founded EC Cubed and served as its CTO. His career started in the telecom industry with Bellcore. Harsha received an MS from the University of Maryland, and B.Tech from the Indian Institute of Technology, New Delhi.