Insights / Software Intensive Networks
Virtual CPE: Achieving hardware-based operations through a software-based virtual function Key design and deployment considerations for a successful vCPE implementation
Key design and deployment considerations for a successful vCPE implementation
Virtual Customer Premises Equipment (vCPE) is quickly gaining market traction. According to research by SDxCentral, many service providers consider VCPE as the prime candidate for deploying Network Functions Virtualization (NFV) use cases.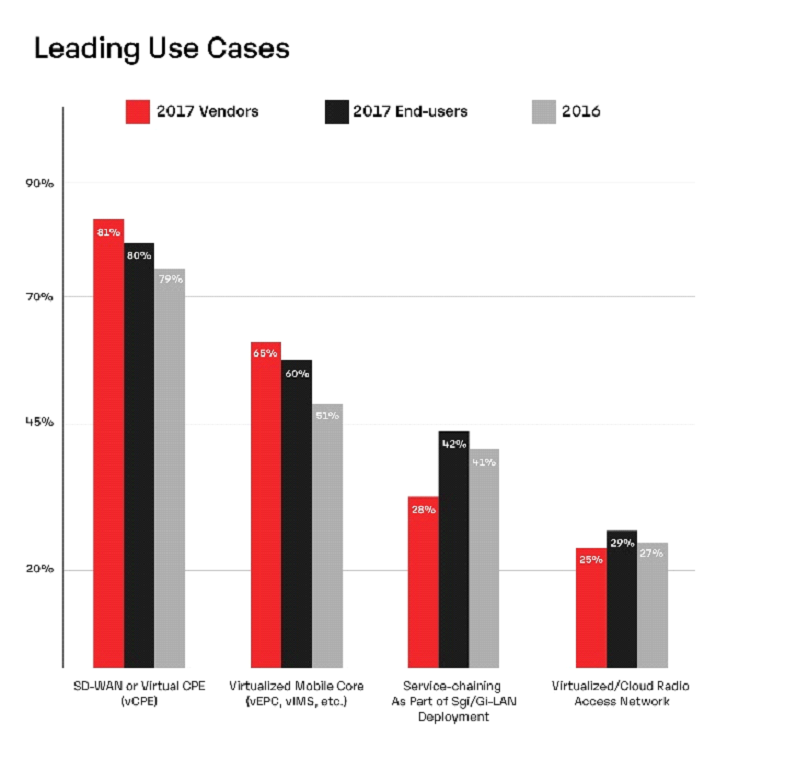 Source: SDxCentral
Service providers are embracing vCPE implementation to reap benefits such as:
CAPEX reduction: Reduced costs by replacing vendor-specific hardware appliances with virtualized network functions (VNFs) implemented on COTS servers. With new white boxes available in market, service providers can save up to 50% in CAPEX.
OPEX reduction: Reduced service delivery costs with heavy automation.
Service innovation and agility: Quicker service/feature rollouts and shorter time to market, improving the customer experience.
While virtual CPE (vCPE) offers the above benefits, service providers must pay attention to design and deployment considerations to realize the full benefits of SDN/NFV. Following are key design and deployment considerations for a successful vCPE implementation:
Effective segregation of functionalities – Inefficient distribution of functionalities between on-premises and cloud can affect the vCPE performance.
Right mix of platforms – Choosing the right combination of platform and data plane accelerators is important in cost and performance optimization.
Ensuring zero/minimal latency – Distributing the VNFs between edge and cloud in the right way to handle latency issues.
Choosing the right orchestration platform – It is important to choose the correct orchestrator based on the ecosystem & features such as interoperability with legacy, EMS, and O/BSS systems.
Virtual CPE allows enterprises to provide on-demand services with the flexibility to scale quickly and reliably.