CRM and the holy grail of personalization
Leverage Salesforce Communications Cloud to increase efficiency of care agents, while reducing overall TCO by 15%
The leading telecom, entertainment and technology companies in the world are opting for new innovative levels of customer care to keep up with the evolving customer preferences. One effective way to improve customer care is by turning to personalization to differentiate the offerings. Businesses can unlock new streams of revenue by bundling existing products or services (or unbundling to offer 'singles') based on the customer's needs.
The legacy customer relationship management (CRM) infrastructure often restricts the company's operations. Some of the main challenges faced by the customer care agents due to legacy CRM systems are:
The data must be sourced from several different applications, resulting in varied data formats
The absence of technology-specific API integrations for billing, invoicing, etc., restricts the order management flow
Frequent manual intervention kills efficiency, thanks to errors and slow resolution of customer issues
No scope for providing a personalized experience due to lack of insights on customer's buying habits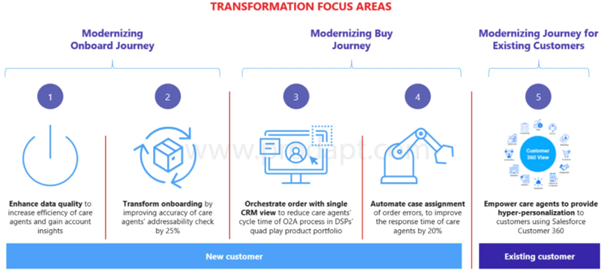 Salesforce is an extremely powerful platform right out of the box. But to reap maximum benefits, enterprises must focus on the right set of transformation levers.
One powerful approach to delivering a relevant customer experience is modernizing the existing CRM with Salesforce Communications Cloud. The Salesforce platform provides loads of capabilities such as order orchestration, automation of case assignments, and hyper-personalized experience to customers.
The platform is extremely powerful, right out of the box. But to reap the maximum benefits, enterprises must focus on the right set of transformation levers. This includes using Salesforce's low-code platform capabilities, applying the Process Builder automation tool to automate case assignment, and customizing the TMF endpoints to provide a personalized touch. With the help of these levers, enterprises can effectively connect all the dots for integrating customer data, personalizing customer interactions, and transforming digital experiences.