Fix the broken dispatch process to improve field service
Spare location intelligence can enable efficient dispatch operations and reduce the issue resolution time by 45%
Most service providers are struggling with the rising cost of field service due to the increase in repeat dispatches and higher issue resolution time. It takes longer to repair faulty hardware, impacting the customer experience and leading to a higher churn probability. According to Forrester, 73% of customers consider time the most critical customer service point.
Spare parts information is critical to scheduling an efficient dispatch for repair activities. It is not only the right delivery of spare parts that matters but also the delivery should reach the right place at the right time. Getting this right, the first time is difficult as the current manual approach is error-prone and inefficient without any automation. With a wide gap between the availability of spare parts and onsite requirements, there is a high degree of unpredictability.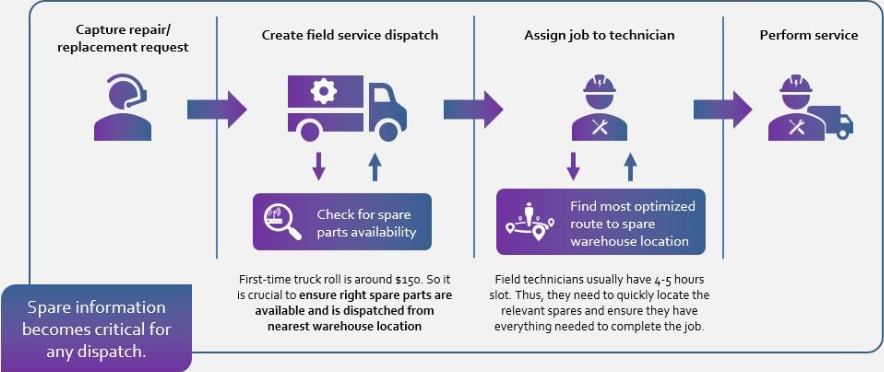 Fig:  Steps followed in field service operation showcasing the importance of spare information
To provide an efficient dispatch, it is crucial to ensure the right spare parts are available and dispatched from the nearest warehouse location through the most optimized route. The Spare-Location Intelligence framework can enable service providers to get real-time spare availability across warehouse locations and the most optimized route to access them.
The Spare-Location Intelligence framework can enable service providers to get real-time spare availability across warehouse locations
Authors:

Sumit Thakur
Murugan Chidhambaram