Prodapt receives two awards at the Annual BPO Excellence Awards 2015
Prodapt, a leading provider of IT, Engineering and Business Process Outsourcing Services Company announced that Asia BPO Summit 2015 has honored Prodapt with 'Excellence in People and Communication' and 'Fun at Work' Awards during their Annual BPO Excellence Awards 2015 that took place at Taj Lands End, Mumbai in February 2015.
The BPO Excellence Awards, which is a part of Asia BPO Summit 2015 identifies and rewards the professionals & organizations for their superlative achievements in the field of Business Process Outsourcing. The Award is a benchmark to recognize excellence throughout the BPO Industry. The BPO Excellence Awards are organized by Asian Federation of Business, endorsed by Stars of the Industry Group in association with World HRD Congress and CMO Asia.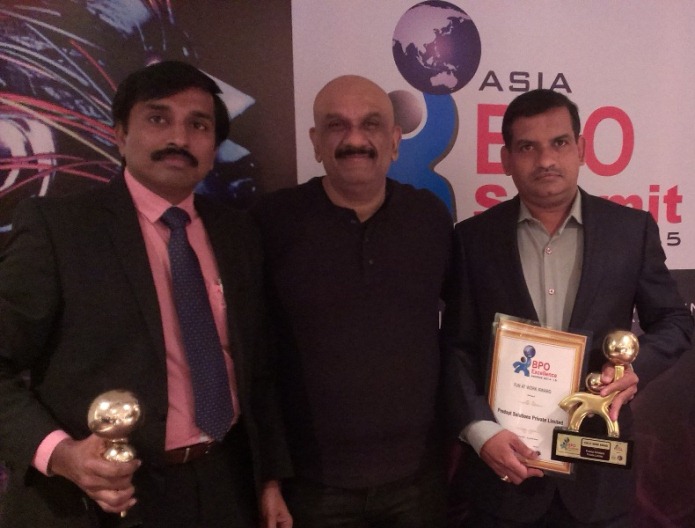 Receiving the awards, Prakash Ramakaimal – Vice President and Head of Business Process Services said "These awards are a testimonial to our employee engagement practices."
Prodapt was honored with 'Excellence in People and Communication' award for adding value to the People community while demonstrating innovation, achieving superior results through leveraging people, processes and technology, commitment to talent management, leadership development programs, delivering a seamless and positive customer experience as a part of organization goals.
Additionally, Prodapt was also recognized with 'Fun at Work' award for creating an employee friendly engagement program that includes employee work-life balance, innovative workplace practices, rewards and recognitions and a healthy work culture provided to the employees.
Rajesh Rathod, COO of Prodapt said "This is a great recognition and tremendous achievement for the entire organization. This truly demonstrates our strong domain focus and people centric culture that helps us deliver quality and value to our customers."
CloudBlue and Prodapt form Alliance to Deliver Differentiated Cloud-based Services to Digital Service Providers (DSPs)
Sep 28, 2021 (New York) - Prodapt, a leading global technology consulting and managed services provider to the connected
Prodapt to Showcase 5G, Cloud and Customer Experience Thought Leadership at TM Forum's Digital Transformation World Series 2021
Prodapt is a Finalist at TM Forum's Excellence Award 2021 in the Cloud Native IT and Networks category
Sep 23, 2021 (
Prodapt Acquires Innovative Logic, will Expand to Silicon Valley, and Serve Global Digital Platform Companies
Aug 19, 2021 (New York): Prodapt, the leading consulting, technology & managed services provider to the Connectedness ve