Prodapt Solutions has won three eminent awards at the famed World HRD Congress on 15 February 2016. The awards were for "Innovation in Recruitment", "Talent Management" and "Fun at Work" categories. These awards celebrate Prodapt's long-standing vision of HR excellence.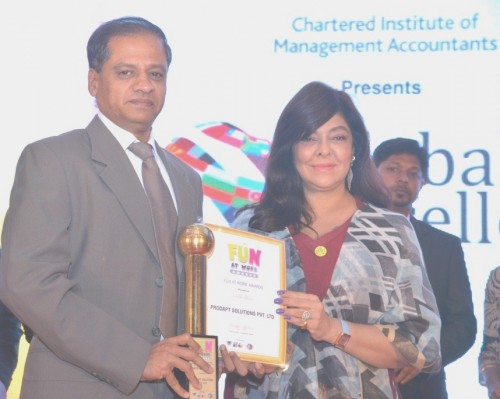 Prodapt was one of over 400 companies that applied for the coveted World HRD Congress awards. The event was conducted from 15th to 17th of February in Taj Lands End, Mumbai.
Speaking about the award, Ramesh Kannan, head of HR at Prodapt said: "Prodapt's high-performance culture nurtures great talent through continuous improvement initiatives. Since our inception, we have focused on training and development, talent retention, and innovative recruitment strategies. This focus has helped us win these awards. I thank World HRD Congress and its promoters for this great honor."
Prodapt believes in "customer experience through personal excellence." This means the operational excellence of the organization is the culmination of collective contribution of individual Prodaptians. Prodapt's employee-oriented culture promotes all kinds of fun activities as well as individual growth. Prodapt develops the organizational capabilities by developing employee skills, which are aligned to the business, and by providing continuous and exciting learning opportunities to the talent pool. Prodapt's sophisticated recruitment methodologies have helped it acquire the best talent in the areas of competency.
About Prodapt
Prodapt is a leading provider of software, engineering, and operations services with a singular focus on the communications industry. Prodapt works with leading global communications service providers (CSPs), independent software vendors (ISVs), and network equipment manufacturers (NEMs).
Prodapt has operations in India, the US, Europe, and South Africa, and is part of the 120-plus year old Jhaver Group of companies that employ over 15,500 people across 64-plus locations globally. Please visit www.prodapt.com for more information.
CloudBlue and Prodapt form Alliance to Deliver Differentiated Cloud-based Services to Digital Service Providers (DSPs)
Sep 28, 2021 (New York) - Prodapt, a leading global technology consulting and managed services provider to the connected
Prodapt to Showcase 5G, Cloud and Customer Experience Thought Leadership at TM Forum's Digital Transformation World Series 2021
Prodapt is a Finalist at TM Forum's Excellence Award 2021 in the Cloud Native IT and Networks category
Sep 23, 2021 (
Prodapt Acquires Innovative Logic, will Expand to Silicon Valley, and Serve Global Digital Platform Companies
Aug 19, 2021 (New York): Prodapt, the leading consulting, technology & managed services provider to the Connectedness ve