20-04-2017 (New York, USA)—Global technology and operations innovator Prodapt will be presenting Telebots™, the robotic process automation framework, at TM Forum Live, in Nice, France through 15 – 18 May 2017. Prodapt will showcase its value proposition at a booth and host an invitation-only lunch briefing session. As a part of the thought leadership initiatives, Prodapt co-authored a TM Forum Quick Insight report titled "Robotic Process Automation: Rise of the Machines," and will also co-host a webinar on robotic process automation on 3rd May. Prodapt is a finalist of TM Forum Digital Awards 2017.
Prodapt is one of the key sponsors of TM Forum Live and will showcase its expertise across RPA, consulting, O/BSS, SDN/NFV, infrastructure management, and IoT at the booth 323. And at the exclusive lunch session on 16th May, Prodapt will present Telebots™.
Prodapt's Connected Officer solution is a finalist of TM Forum Digital Awards 2017 in the "Digital Service Innovator of the Year" category. This solution empowers one of the largest police departments in the United States.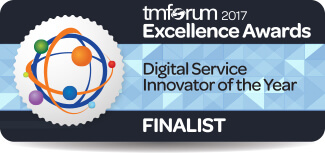 On 3-May-2017, Prodapt along with a client will present a webinar on RPA in association with TM Forum. During the webinar, Prodapt will demonstrate the business value created with Telebots™ and emerging trends in RPA across the globe. Registrations open for the live webinar session: Registration page.
As an addition to its existing library of thought-provoking insights, Prodapt also co-authored a Quick Insight report with TM Forum titled "Robotic Process Automation: Rise of the Machines" highlighting the latest RPA trends.
About Prodapt
Prodapt is a leading global IT services and operations company focused on telecommunications and IoT. Prodapt works with the communications & digital service provider ecosystem to help maximize value and reduce cost from IT and network engineering investments. Prodapt has delivery centers in the US, Europe, and South Africa, and India. Prodapt is part of the 120-year-old Indian business conglomerate the Jhaver Group, which employs over 16,500 people across 64 countries. Prodapt is an ISO 9001:2008, ISO 27001:2015, SSAE16, and CMMI Level 3 certified company.
About TM Forum
TM Forum is the global member association for the digital business that provides a platform for hundreds of global members across a wide range of industries to collaborate and partner to co-create, prototype, deliver, and monetize innovative digital services for their billions of customers.
To accelerate 5G industry solutions adoption and fast-track network edge monetization, Prodapt announces test lab expansions across Silicon Valley, Ireland, and India
Nov 10, 2021 (London): Prodapt, a leading consulting, technology & managed services provider to the Connectedness indust
Robin.io and Prodapt form Alliance to Deliver Differentiated Cloud-native Services for 5G to Digital Service Providers (DSPs)
Robin.io will also join Prodapt's Open Virtual Exchange (OVX) to help DSPs fast-track deployment and lifecycle managem
CloudBlue and Prodapt form Alliance to Deliver Differentiated Cloud-based Services to Digital Service Providers (DSPs)
Sep 28, 2021 (New York) - Prodapt, a leading global technology consulting and managed services provider to the connected