NEW YORK, USA—March 30-03-2017—Prodapt today announced that it is a finalist in the TM Forum Excellence Awards 2017 in the Digital Service Innovator of The Year category. The Excellence Awards program honors global service and solution providers within TM Forum's member community that are making significant contributions to advance critical best practices and standards for the benefit of entire industries and digital ecosystems.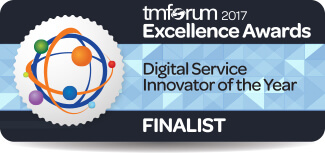 TM Forum will announce the winners of the 2017 TM Forum Excellence Awards during a special ceremony at TM Forum Live! on Monday, May 15th. Winners will also receive recognition during the opening keynote session at TM Forum Live! on Tuesday, May 16th.
Prodapt is a technology and operations services innovator catering to the global CSPs and DSPs. For over 17 years, Prodapt developed niche technology expertise in the telecom domain by working with some of the leading global CSPs. Prodapt has launched its IoT services also and partners with leading system integrators and hardware providers. Prodapt's Connected Officer program has been shortlisted as one of the finalists under Digital Service Innovator of the Year Award category. This solution has been leveraged to automate and empower one of the largest police forces in North America.
"Congratulations to the finalists of the TM Forum 2017 Excellence Awards," said Nik Willetts, deputy CEO, TM Forum. "These are the companies at the forefront of accelerating digital transformation across diverse industries and ecosystems, and delivering groundbreaking solutions through collaboration and open innovation. The leadership of these members continue to cement TM Forum's critical role in helping our members to navigate the ever-changing digital business landscape."
The TM Forum Excellence Awards 2017 are judged by an independent panel comprised of leading industry and subject matter experts.
About Prodapt
Prodapt is a leading global IT services and operations company focused on telecommunications and IoT. Prodapt works with the communications service provider ecosystem to help maximize value and reduce cost from IT and network engineering investments. Headquartered in Chennai, India, Prodapt has additional locations in the US, Europe, and South Africa. Prodapt is part of the 120-year-old Indian business conglomerate the Jhaver Group, which employs over 16,500 people across 64 countries. Prodapt is an ISO 9001:2008, ISO 27001:2015, SSAE16, and CMMI Level 3 certified company.
CloudBlue and Prodapt form Alliance to Deliver Differentiated Cloud-based Services to Digital Service Providers (DSPs)
Sep 28, 2021 (New York) - Prodapt, a leading global technology consulting and managed services provider to the connected
Prodapt to Showcase 5G, Cloud and Customer Experience Thought Leadership at TM Forum's Digital Transformation World Series 2021
Prodapt is a Finalist at TM Forum's Excellence Award 2021 in the Cloud Native IT and Networks category
Sep 23, 2021 (
Prodapt Acquires Innovative Logic, will Expand to Silicon Valley, and Serve Global Digital Platform Companies
Aug 19, 2021 (New York): Prodapt, the leading consulting, technology & managed services provider to the Connectedness ve