12-10-2017(NEW YORK)—Prodapt Solutions, a technology, and services innovator, has announced that Zinnov has positioned it as a niche and established player in its Zinnov Zones 2017 IoT Technology Services.
Here is the overall ranking of Prodapt among industry's leading service providers.
This is a study that analyzed the Global IoT market and trends from both the buyers' and service providers' perspectives. Zinnov evaluated Prodapt's key capabilities in the IoT domain through their in-house SynaptTM framework, the success stories, and the strong R&D investments.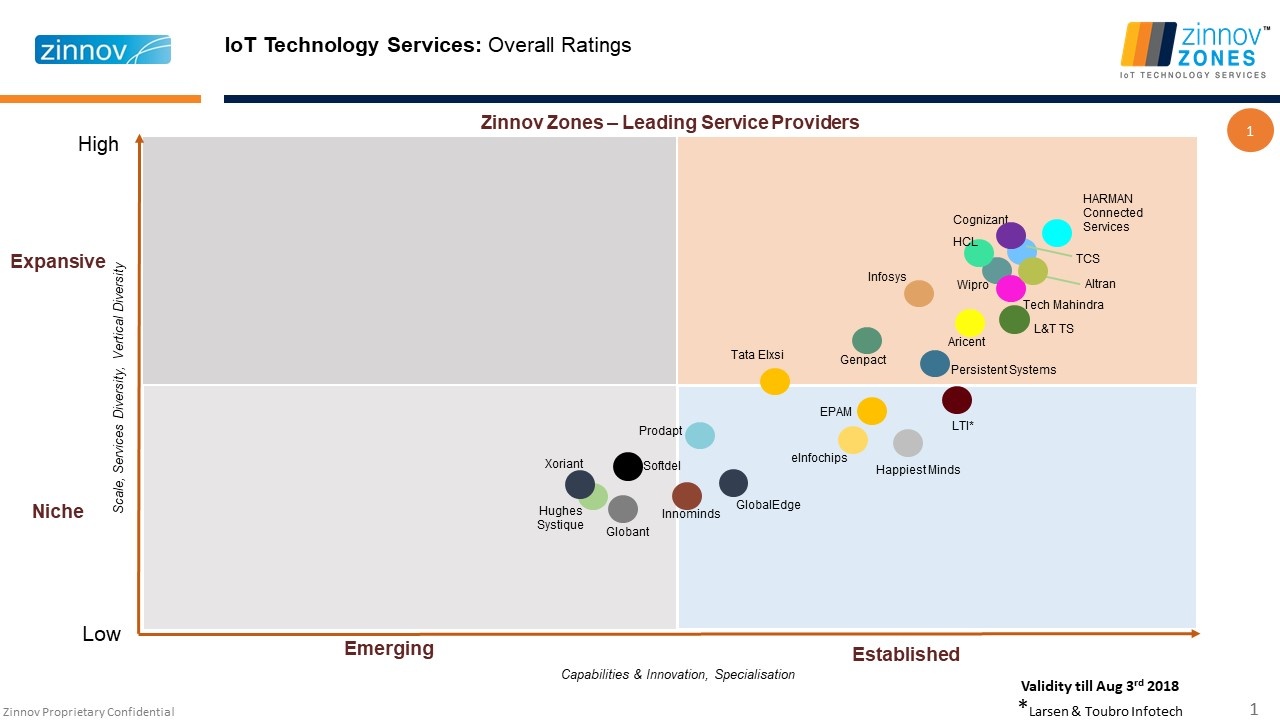 Prodapt approaches the market with a deployable solution for a focused set of verticals. The focus on select opportunities in energy efficiency as a service (EEaaS), smart building, oil & gas, and connected worker, gives Prodapt the ability to identify best-of-breed partner technologies and develop deployable solutions with demonstrable ROI.
About Zinnov's positioning of Prodapt, Prashanth Adiraju, Vice President – IoT, at Prodapt, said: "This is the second time Prodapt is being recognized by Zinnov as an established, niche player in the IoT ecosystem. Prodapt's deployable solution approach and intense focus on select verticals allow us to accelerate value for our customers. This recognition is a good testament to our approach to the market."
"Prodapt has marked its position as a niche and established service provider in IoT technology services. With its strong Synapt offerings, energy management solutions, and communications competency, Prodapt has demonstrated capabilities to build leading smart solutions," said Sidhant Rastogi, Partner & Practice Head, Zinnov.
About Prodapt
Prodapt is a leading global IT services and operations company focused on telecommunications and IoT. Prodapt works with the communications & digital service provider ecosystem to help maximize value and reduce cost from IT and network engineering investments. Prodapt has delivery centers in the US, Europe, South Africa, and India. Prodapt is part of the 120-year-old Indian business conglomerate the Jhaver Group, which employs over 16,500 people across 64 countries. Prodapt is an ISO 9001:2008, ISO 27001:2013, SSAE16, and CMMI Level 3 certified company
About Zinnov
Established in 2002, Zinnov has presence in Bangalore, Gurgaon, Silicon Valley, and Houston. Zinnov has built in-depth expertise in Product Engineering and Digital Transformation. With a strong foundation in Research and Strategy Consulting, they enable clients to accelerate growth and create efficiencies through innovation, productivity, technology, and cost savings.
CloudBlue and Prodapt form Alliance to Deliver Differentiated Cloud-based Services to Digital Service Providers (DSPs)
Sep 28, 2021 (New York) - Prodapt, a leading global technology consulting and managed services provider to the connected
Prodapt to Showcase 5G, Cloud and Customer Experience Thought Leadership at TM Forum's Digital Transformation World Series 2021
Prodapt is a Finalist at TM Forum's Excellence Award 2021 in the Cloud Native IT and Networks category
Sep 23, 2021 (
Prodapt Acquires Innovative Logic, will Expand to Silicon Valley, and Serve Global Digital Platform Companies
Aug 19, 2021 (New York): Prodapt, the leading consulting, technology & managed services provider to the Connectedness ve