Prodapt today announced the appointment of Harsha Kumar as President, reporting to the Chairman/CEO, Vedant Jhaver. As President, Harsha will drive all business functions including sales, account management, solutions, marketing and strategy. He will be based at Prodapt's office in New York.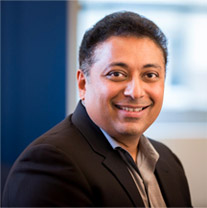 Harsha brings extensive experience in leading growth stage companies through major growth spurts. He spent the last 15 years as a key member of Virtusa's senior leadership team that established Virtusa as a premier IT consulting, transformation and outsourcing provider. As Executive Vice President, he led Virtusa's major growth practices focused on outsourcing transformation services across Applications, Infrastructure and BPO. Previously, he started and led Virtusa's businesses focused on the Telecom & Media, Information and Entertainment, Insurance, Healthcare, and Technology industries. Earlier, Harsha set up and managed all aspects of Virtusa's Indian operations.
Prior to Virtusa, Harsha co-founded EC Cubed and served as its CTO. His career started in the telecom industry with Bellcore. Harsha received an MS from the University of Maryland, and B.Tech from the Indian Institute of Technology, New Delhi.
"We are very excited to have Harsha join the Prodapt team as President" said CEO Vedant Jhaver. "His entrepreneurial background and successful track record with growth stage companies make him a terrific fit for this role. Harsha brings deep expertise in running and growing services businesses, and is a strong cultural fit with our teams and vision."
"I'm delighted to join Prodapt's highly capable team. They've built an impressive company with deep expertise in the communications industry and IoT," said Kumar. "The innovations in these sectors are dramatically transforming enterprises and user experiences. Prodapt's capabilities are best-in-class, and I look forward to helping the firm grow and establish itself as a market leader."
About Prodapt
Prodapt is a leading provider of IT and engineering services with a major focus on the communications industry. Prodapt works with communications service providers (CSPs), ISVs, and NEM customers to help maximize value and reduce cost from IT and network engineering investments. Synapt, the IoT division of Prodapt, has established its dominance in the IoT market with cutting-edge solutions, services, and products.
Headquartered in Chennai, India, Prodapt has additional locations in India, US, Europe and South Africa. Prodapt is part of the 120-year-old Indian business conglomerate, the Jhaver Group. The Group employs over 15,500 people across 64 countries.
Prodapt acquires Silicon Valley based Synophic Worldwide
Acquisition to help Prodapt strengthen and grow transformational network services by 200% annually
Jan, 19, 2022 (New Y
Prodapt acquires UK-based SLR Dynamics
Acquisition to bolster Prodapt's leadership position in connectedness vertical, reaffirms commitment to the UK with a
To accelerate 5G industry solutions adoption and fast-track network edge monetization, Prodapt announces test lab expansions across Silicon Valley, Ireland, and India
Nov 10, 2021 (London): Prodapt, a leading consulting, technology & managed services provider to the Connectedness indust